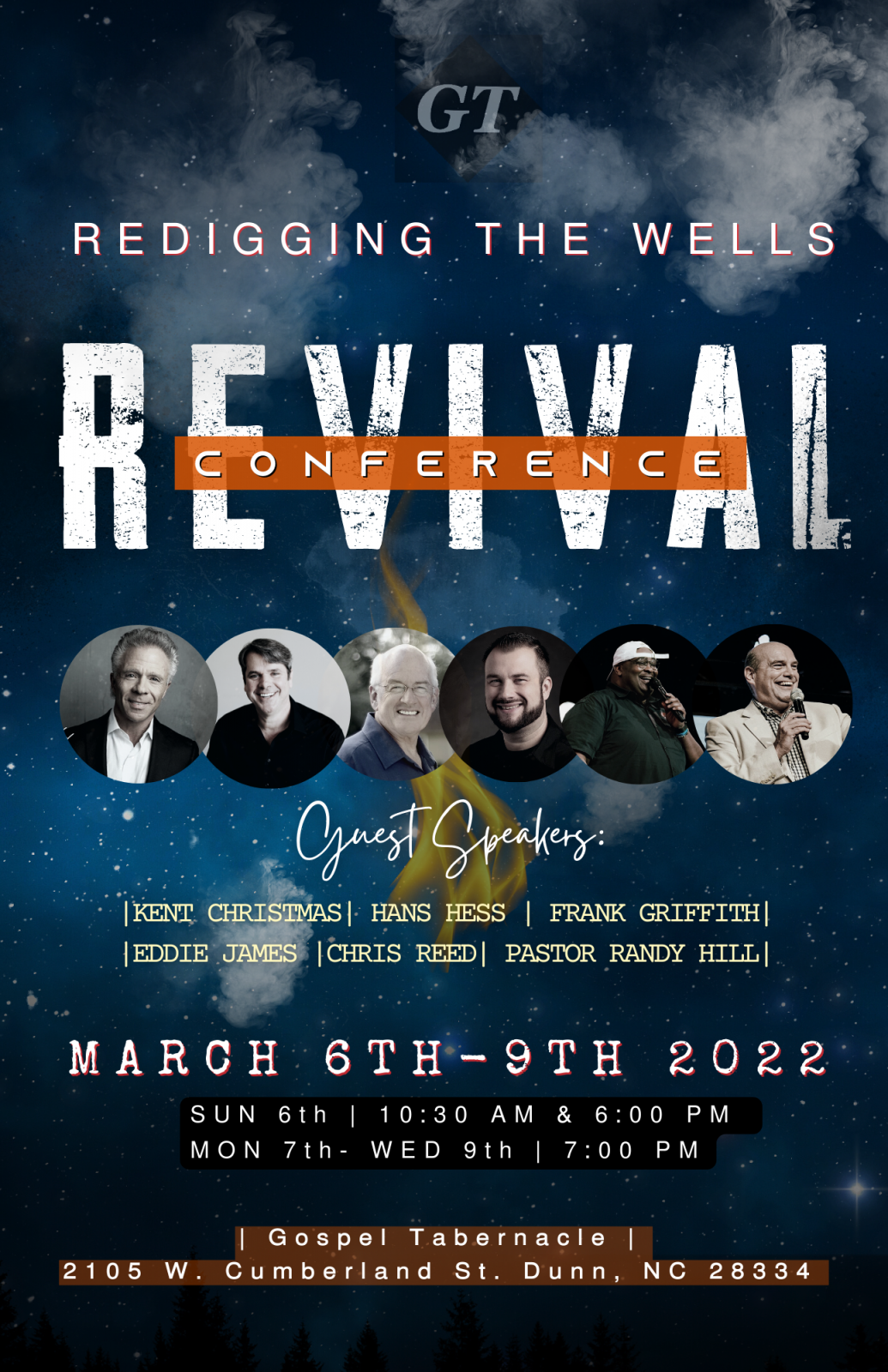 REDIGGING THE WELLS CONFERENCE
SUNDAY 10:30 AM & 6:00 PM | MONDAY-WEDNESDAY 7:00 PM
Join us for our Annual Redigging the Wells of Revival Conference at Gospel Tabernacle, March 6-9thth 2022. This is will be a time of going after God and hearing the word of the Lord. Hans Hess, Senior Pastor of Fountain of Life Church in Elizabeth City, NC will be joining us. He has a burning passion for Jesus, and it's contagious. Kent Christmas will also be joining us from Nashville, Tennessee. Kent Christmas is the founding pastor of Regeneration Nashville. He is used abundantly in the prophetic and we are looking forward to hear what God is revealing in this crucial time. Frank Griffith will also be joining us, Frank is from Foley, Alabama. God uses him and his wife Gayle, miraculously in ministry and helping restore/feed cities and communities after natural disasters. They have a hearts of gold for God & His people. Eddie James will also be with us, Eddie rescues, restores, and disciples youth who are coming out of drug addiction, street life, gangs, violence, abuse, and perverse lifestyles through his recovery and Discipleship 'N Art programs. These highly effective programs have empowered youth to experience a life in freedom and discover their true significance. When he is not traveling, he is with his spiritual and adopted sons and daughters, teaching his discipleship program called "Discipleship N Arts" (DNA). Because of this DNA, Eddie James Ministries and DreamLife has empowered hundreds of youths to experience a life in freedom and discover their true significance – many of whom now have ministries of their own or are serving in powerful ministries and churches. Eddie James is clearly a voice anointed to SHIFT a generation back to the heart of God. We are excited to have Chris Reed with us this year. After feeling the call to minister at age twelve, Chris Reed started speaking and accepting invitations to minister on a regular basis at the age of fifteen. Not long after turning nineteen, he began serving as an assistant/associate pastor speaking at over two hundred churches, revivals, and crusades. At the age of twenty-five, he was elected pastor of The Revival Center church of Peru, Indiana. Since that time, hundreds have been baptized, Spirit-filled, and are now actively working in or seeking their purpose. Pastor Reed focuses on revival and evangelism, while also putting members into their ministry and purpose to change their world.
This is something you will not want to miss!!!!
Bring your friends & family, this will be a time of the body coming together to dig into what God is opening up. See you there!
If you can not join us in person, we will be Livestreaming every night via Facebook. Click the button below for livestream.